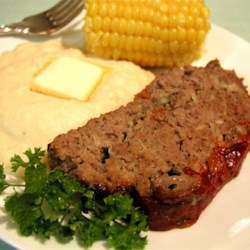 Is it the weather or the time of year that makes my mouth water for a slice of something as wonderful and tasty as meatloaf? Although meatloaf has it's American roots in making a portion of ground beef go further and last more than one night, there are usually no left overs in my family on that coveted night, meatloaf night.  Meatloaf has the distinct aroma of "Mom loves me" and was always my first choice of comfort food when I came home from college. Although I have not perfected the meatloaf, I ran across this Brown Sugar Meatloaf recipe on AllRecipes.com today and now know what Sunday dinner is going to be.
Brown Sugar Meatloaf by Tangastar
Ingredients:
1/2 cup packed brown sugar
1/2 cup ketchup
1 1/2 pounds lean ground beef
3/4 cup milk
2 eggs
1 1/2 teaspoons salt
1/4 teaspoon ground black pepper
1 small onion, chopped
1/4 teaspoon ground ginger
3/4 cup finely crushed saltine cracker crumbs



Directions:
Preheat oven to 350 degrees F (175 degrees C). Lightly grease a 5×9 inch loaf pan.
Press the brown sugar in the bottom of the prepared loaf pan and spread the ketchup over the sugar.
In a mixing bowl, mix thoroughly all remaining ingredients and shape into a loaf. Place on top of the ketchup.
Bake in preheated oven for 1 hour or until juices are clear.
Thanks to AllRecipes.com for this recipe of the day which I can just envision with a heaping mound of home made mashed potatoes and home grown green beans.
What are you having for dinner?